Tunç Demirçelik joins Prodigy Agency as Turkey Coordinator
Tunç Demirçelik joins Prodigy Agency as Turkey Coordinator
2022-01-26
Prodigy Agency strengthens its Turkish operations and support to players by announcing the addition of Tunç Demirçelik and future recruitments.
Toulouse, January 26, 2022: Prodigy Agency, a leading esports representation agency, has announced its development in Turkey to expand its initiative to support the players from all angles in the region, with the main focus to give proven and young players international opportunities on LoL, Valorant, CS:GO and other games.
Prodigy Agency, founded and directed by Jérôme Coupez, represent more than 100 players around the world, including some of the biggest stars in esports like Mathieu "ZywOo" Herbaut and Jonathan "EliGE" Jablonowski on CS:GO, Adil "ScreaM" Benrlitom and Tyson "TenZ" Ngo on Valorant, Alexandre "Kaydop" Courant on Rocket League, or Kacper "Inspired" Słoma.
Prodigy Agency is now representing world-class Turkish players, that they already signed with prominent esports organisations, such as Özgür "woxic" Eker (CS:GO, former Mousesports and Cloud9), Mehmet Yağız "cNed" İpek (Valorant, won Champions (1st World Championship) with Acend) and Melih "pAura" Karaduran (Valorant, former Heretics and current BBL) and more, but also young and promising prodigies like Doğukan "113" Balci (LoL, joined Karmine Corp in LFL) orMuhammed "Kaori" Şentürk (LoL, joined EG Academy in NA).
With the recent addition of Tunç Demirçelik, Prodigy Agency is now representing nearly 20 players in Turkey and developing its local team to continue to expand and always provide top-notch services and support to its players with the main goal to welcome new stars but also to focus on nurturing and providing full support to young and upcoming talents in the region, and create strong connections between Turkey and the main regions (Europe, North America, Asia).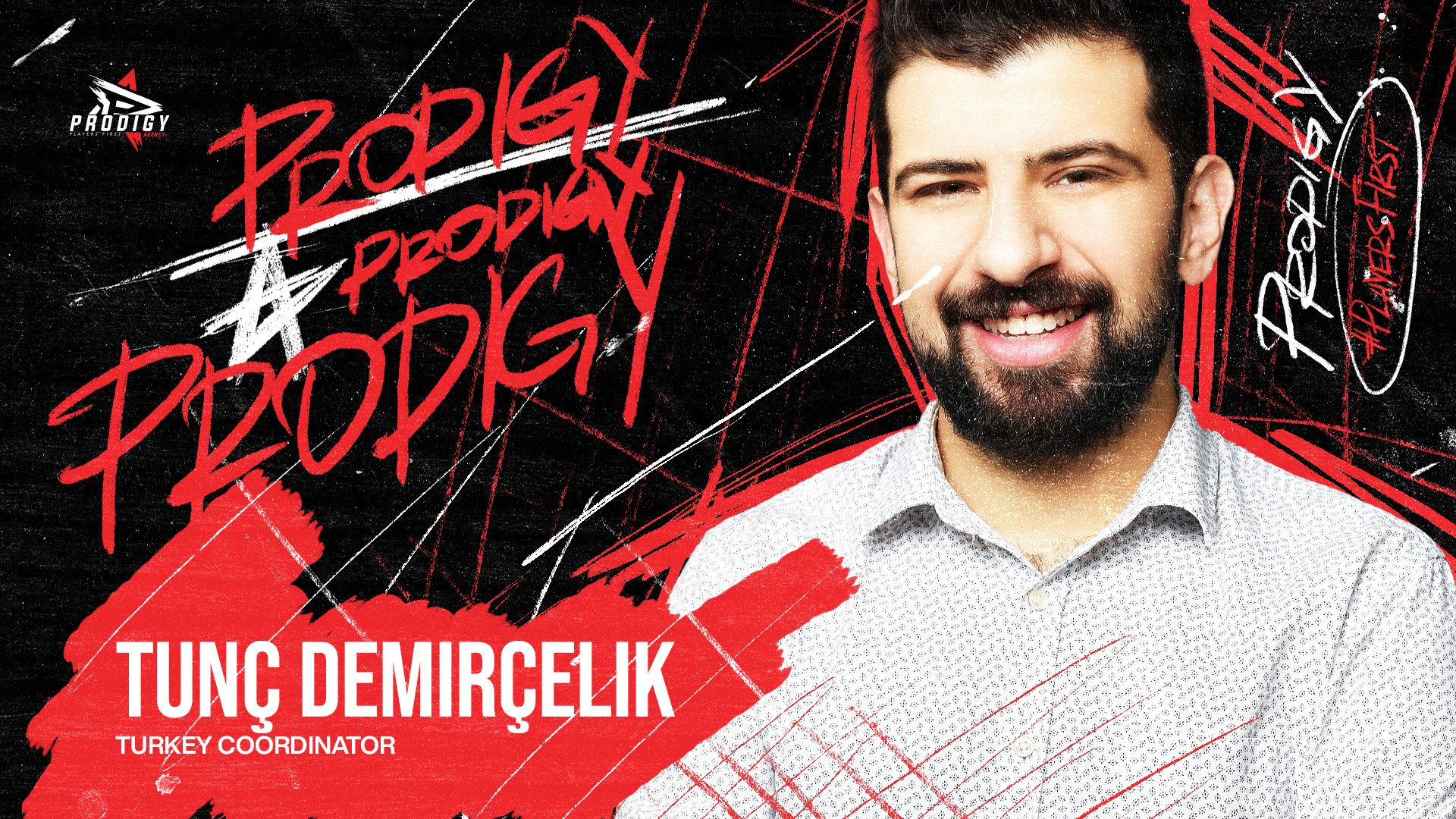 Tunç Demirçelik operates as Turkey Coordinator for Prodigy Agency
Prior to joining Prodigy Agency in October 2021, as a prominent esports figure in Turkey, Tunç Demirçelik served as a team and content manager for renowned Turkish organizations such as SuperMassive Blaze, but was also deeply involved in the LoL Turkish ecosystem and development, working directly with Riot Games Turkey, and being the host of some of the most popular shows like "Üçlü Kuvvet".
With a strong network with players and teams, and extensive knowledge of the scene in Turkey, he is now leading the charge of the development of Prodigy Agency in Turkey, by coordinating with all the services of the company around the world.
--
"I want Prodigy Agency to pave the way for a sustainable representation of the players in Turkey and Tunç is the perfect fit to keep expanding our initiatives and support to the region.
Turkey has one of the best esports talent pool in the world with an incredible potential and our main goal is to support the players from all angles, giving them everything needed to find international opportunities in major esports region and teams. But we also want to help the grassroots of esports in Turkey becoming more sustainable for esports.
With his extensive network, experience and incredible mindset, Tunç has already accomplished such an astonishing work since he joined Prodigy Agency to help and support our prodigies, and I'm really excited about 2022 and our long-term work in the region!"
Jérôme Coupez, Founder & CEO - Prodigy Agency
--
"We all know the untapped potential of the Turkish region. Two Turkish players were at the top of LEC and LCS this year. Talking with Prodigy and Jerome showed me that there is so much more that we can do for the players to help them realize their true potential. #PlayersFirst mentality was always in me without me realizing.
Working in TCL, I've always tried to make the lives of the pro players I worked with easier. The life of a pro player is a very difficult one. They need the best support to focus on their respective crafts. That's where I and Prodigy come in. Together; we will help the Turkish players improve, thrive and turn them into the best version of themselves."
Tunç Demirçelik, Turkey Coordinator - Prodigy Agency
--
---
Prodigy Agency
Prodigy Agency is a leading esports representation agency supporting world-class and up-and-coming players around the globe.
Built around a family-centric culture, Prodigy offers talent a full suite of services including career management, health and performance, strategic guidance, contract negotiations, brand creation and management, integrated marketing, global partnership development and more.
Thanks to a deep knowledge of esports and a combined reach of more than 60 million followers, leading brands and companies look to Prodigy Agency to provide leadership in understanding the esports market through fans' passion and how these insights can build more effective, efficient and measurable marketing programs and ROI.
Contact: Jérôme Coupez - Founder & CEO (jerome.c@prodigy-agency.gg) Website: http://prodigy-agency.gg
Our mission
See what we do