Prodigy Agency receive a total of five nominations from the Esports Awards 2022
Prodigy Agency receive a total of five nominations from the Esports Awards 2022
2022-10-28
Prodigy Agency receive a total of five nominations from the Esports Awards 2022
TOULOUSE (Friday 28 October, 2022) - Prodigy Agency is proud to acknowledge the nominations of some of their top players at the Esports Awards. Player nominations include: Alfajer for Esports PC Rookie of the year, Shao for Esports PC Player of the year, Vatira for Esports Controller Rookie of the year and Yanxnz for Esports Controller Player of the year.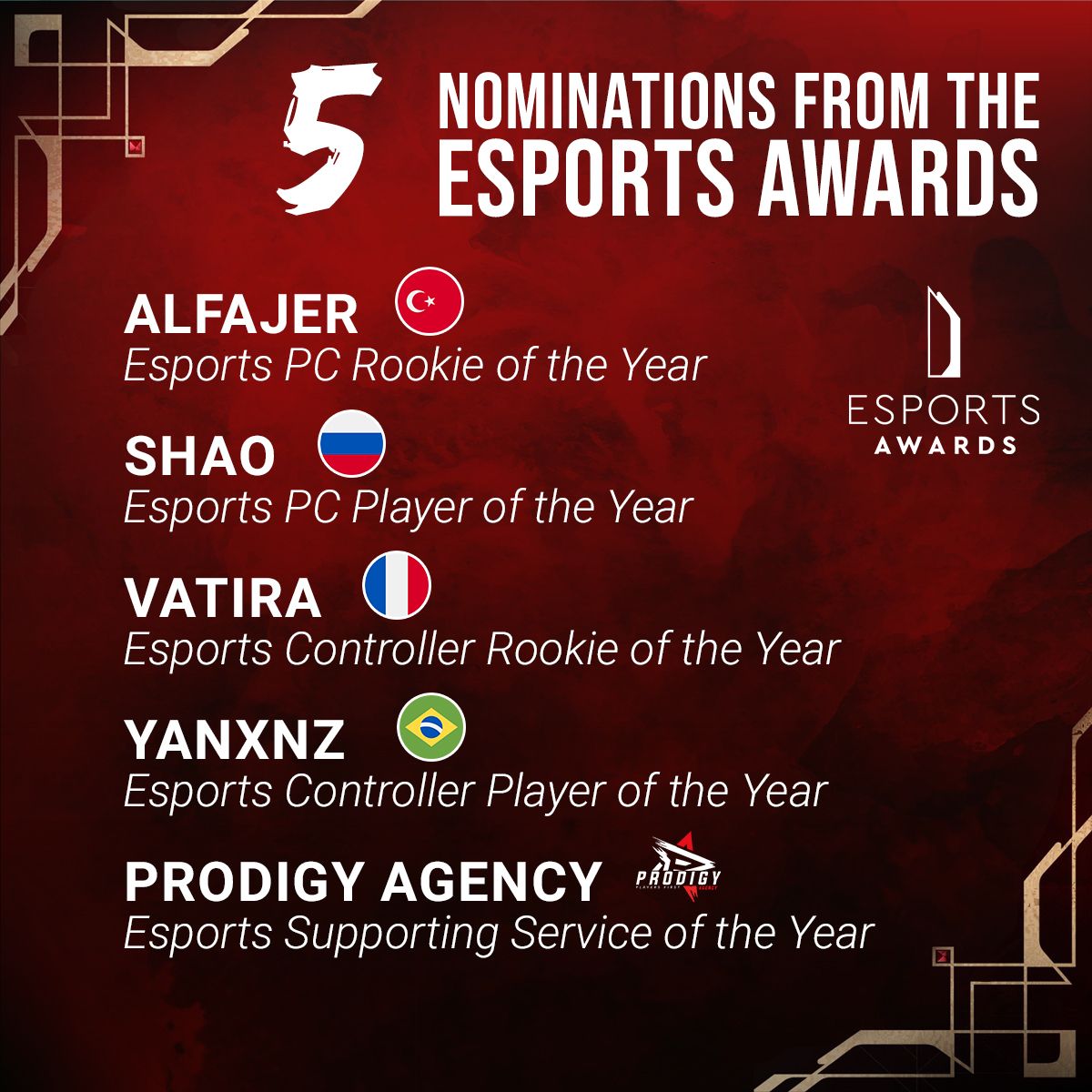 Prodigy Agency is renowned for putting their #PlayersFirst in their holistic approach to mental health awareness. With the stakes and pressure continually increasing within esports, Prodigy Agency offers 360-degree support to all players from contract agreements to brand image, as well as support regarding health and performance.
Alongside the four player nominations, Prodigy Agency has been nominated as one of the industry finalists for Esports Supporting Service of the Year. This is the third year in a row the agency has been nominated for this award as they continue to be recognised for their success as the leading esports representation agency!
"I am really excited that some of our prodigies have received nominations at the Esports Awards, and that their hard work and skills allowed them to be recognized as some of the absolute best players in the world! We are proud to be supporting them and all our players into becoming the best version of themselves, and we're always rooting for them!"
said Jérôme Coupez, Founder and CEO of Prodigy Agency.

The winners of the Esports Awards will be announced on December 13, 2022 in Las Vegas and broadcasted on Twitch. You can vote for them here: https://esportsawards.com/vote/.
Sign up to Prodigy Agency's newsletter through their website to keep up to date with everything regarding the leading esports representation agency: prodigy-agency.gg.
--
Press Contact:
For more information, please contact press@prodigy-agency.gg
--
Prodigy Agency Social Media:
Twitter: @ProdigyAgencyGG
Instagram: @prodigyagencygg
LinkedIn: @ProdigyAgency
#PlayersFirst
#ProdigyFamily
--
About Prodigy Agency
Prodigy Agency is a leading esports representation agency supporting world-class and up-and-coming players around the globe.
Built around a family-centric culture, Prodigy offers talent a full suite of services including career management, health and performance, strategic guidance, contract negotiations, brand creation and management, integrated marketing, global partnership development and more.
Thanks to a deep knowledge of esports and a combined reach of more than 30 million followers, leading brands and companies look to Prodigy Agency to provide leadership in understanding the esports market through fans' passion and how these insights can build more effective, efficient and measurable marketing programs and ROI.
Our mission
See what we do