Guilhem Causse (former Infront X & A.S.O.) joins Prodigy Agency as Head of Sales & Partnerships
Guilhem Causse (former Infront X & A.S.O.) joins Prodigy Agency as Head of Sales & Partnerships
2021-06-04
We are proud to welcome Guilhem Causse to the prodigy family, as our new Head of Sales & Partnerships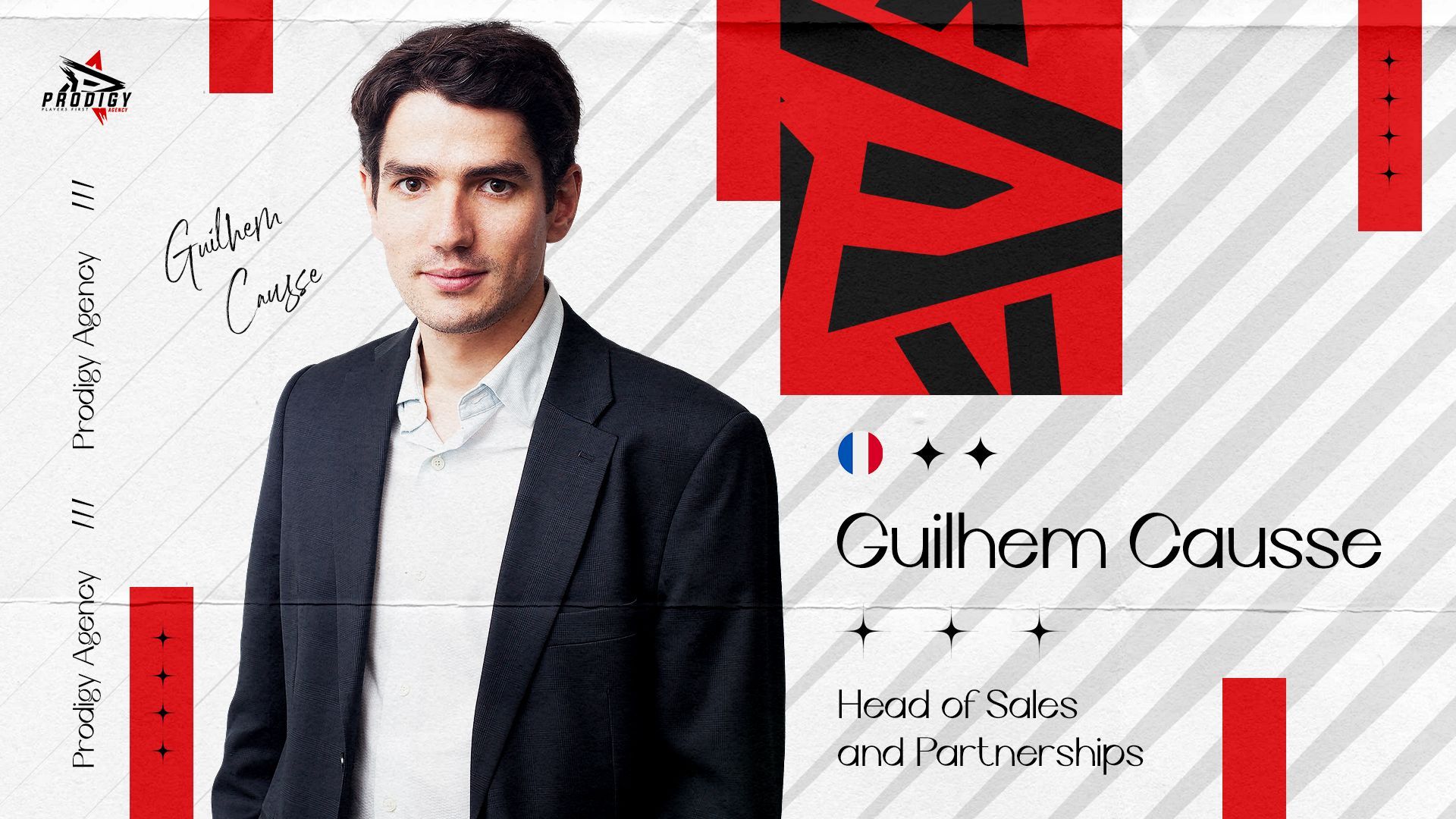 We are glad to announce that we have appointed Guilhem Causse, a prominent expert with over 10 years of experience in the sports industry to the role of Head of Sales & Partnerships, to lead and expand its initiative to generate commercial opportunities for its players.
Before joining Prodigy Agency, Guilhem was leading the strategic growth of Infront Group's digital entity in Europe, one of the leading full-service sports marketing companies in the world, working with premium brands such as NASCAR with emerging technologies to engage fans and drive sponsorship revenue, Activision Blizzard to handle the platforms of their teams' ecosystem, Chelsea FC with the award-winning app "5th stand", PGA Tour with entertaining digital experiences or Under Armour to revitalize their ad landscape.
Prior to that, he had the opportunity to manage and lead innovative digital strategy and business growth with various revenue streams at "Amaury Sport Organisation" (A.S.O.), a company organizing over 90 sports events worldwide, including Le Tour de France in cycling or Dakar Rally in motorsport to implement engaging sponsorship operations, digital rights deals, D2C services, and entertaining gaming licenses.
Guilhem Causse leading the digital iniatives at the Tour de France 2018 .
With extensive experience in sport and working with premium brands and agencies, as well as sharing the Players First mindset and strong values of Prodigy Agency, Guilhem is the perfect match to spearhead the Sales and Partnerships growth of Prodigy and its players.
Representing the world-class roster of Prodigy Agency, with more than 100 players around the globe, Guilhem will be leading the charge and initiatives to develop and diversify revenue streams for the players, by developing new commercial opportunities through ambassadorships, sponsorships, licensing, and more, with a focus on creating collaborations with non-endemic and major brands.
--
"I am really glad to join a dynamic startup such as Prodigy Agency, the #PlayersFirst mindset is really something which is driving all the people involved in this company. All the international talents represented by the agency offer tremendous opportunities for brands, especially the non-endemic ones. Gaming & esports are fantastic ways to reach a highly engaged young audience! I am really looking forward to set-up long-lasting relationships through strategic partnerships between our portfolio of professional players & rights holders/brands."
Guilhem Causse, Head of Sales & Partnerships - Prodigy Agency
--
"At Prodigy Agency, we lead the charge for players' representation and support, and strive to develop commercial opportunities to diversify and expand their revenue streams in the long term, with the main goal to create sustainable incomes during and after their careers. Esports is a rocket growing industry and the best players are becoming true icones with a massive potential for brands to associate themselves with their image, audience, authenticity and results to generate traction and target new audiences, fans of video games and esports.
Representing some of the very best and most known esports players in the world, I'm proud to build a world-class team to pave the way and drive premium collaborations and sponsorships, and to welcome such a seasoned expert as Guillhem to spearhead our commercial initiatives."
Jérôme Coupez, Founder & CEO Prodigy Agency
#ProdigyAgency #PlayersFirst
Our mission
See what we do